Automatic Tank Gauge System
Quick inquiry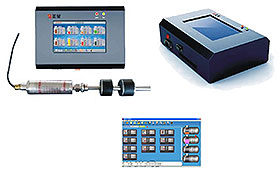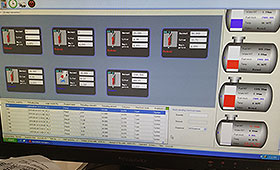 The tank is a sealed space and we can't see the liquid inside with eyes or simple measurement. At this time we need a professional instrument to measure the liquid inside the tank. Secondly, there are a number of mobile tanks which need real-time monitoring of oil content in the tank, and the level of the instrument is very good to play a role in supervision. With our tank gauge system, we can monitor the oil of the tank through the ultrasonic transmission data and the data will be transmitted to the database. People can know about the information of the oil through PC or mobile terminal, which can manage and monitor the vehicle, preventing oil theft and oil leakage.
Automatic Tank Gauge System Product configuration
*Maximum 8 probes for linkage, display 8 tank's information at the same time:
*Alarm and cancel alarm: oil level alarm, water level alarm, temperature alarm and static tubing leak alarm:
*Calculate present tank stock according to the oil level, water level and tank table. Display liquid
total volume, oil volume and water volume at real time.
*Automatically shut off submersible pump at low oil level
*GSM module: send short messages including stock and alarm information to manager's mobile phone, manager get information timely and efficient.
*Timing function: automatically timing by ATG controller and back-stage management system
*Support extending function of receipt printer and printing system information
*Multilevel password protection function can make the settled system data sate
*Support stock management software and supply protocol ports to support the third gas station retail management system
*Provide function of alarm for sensor communications blackout
Automatic Tank Gauge System Technical Parameters
*Power Supply:
Input Voltage:220VAC±15%
Rated working voltage:24VDC
*Working Condition:
Working temperature:-25℃~55℃
Relative humidity: -25℃~55℃
*Interface
Display on the big multicolor LCD
Input with touch-screen LCD
Net size: 26.4*18.7*7.6cm
*I/O Port
| | | | |
| --- | --- | --- | --- |
| Name | Mode | Number | Remark |
| COM1 | RS-232 | 1 | Connect to PC |
| COM2 | RS-232 | 1 | Connect to receipt printer |
| Loop1-8 | RS-485 | 8 | Connect to probe |
Request for Quotation